suremann
Hobo


Switzerland
14 Posts

Posted - 01/23/2019 : 20:33:45


---
The SARX 7227 Project

Here a report about one of my latest project. Why do I started this project? Good question, I can hardly remember why I started this project, but if I remember right, "someone" asked me, if I could use a GE U30C or a C30-7.

Back then, my first answer was a simple "no". And that was it for the moment. For my own curiosity, I've done a google search for "GE U30C" just to check, if I can find a special paint schema for one of such an engine. That was the first time I stumbled over SARX 7227. A very special engine in its appearance, but would I be able to paint this engine in n-scale?? Again, the first answer to my self was "no".
It then happens, that I was asked again, if I could have a use for a U30C. This time, I couldn't say "no" and I was the owner of a Kato U30C.

From that point on, I started a more in deep research about the SARX 7227. I was trying to get as many pictures as possible from that engine. To my surprise I could only find 3 pictures, not that much. Ok, what's about some general information about the engine? From the pictures I found on rrpicturesarchives.net, I was able to find the previous owners (railroads). LN, SBD, CSX and now SARX. What is SARX? SARX's is the Southern Appalachian Railway Museum in Oak Ridge, Tennessee. It operated a 7 mile long track and offered excursion trains. That was until 2016 as SARX has to cease operation, due to liability issues. But the Museum is still engaged in restoration and preservation projects for their engines and rolling stock. I was hoping to get here some more information about the U30C, but the Museum lists "only" a SD45, an EMD E8, some ALCO's and a GE U23B but not the U30C. As it looks like, I choose to paint an engine with literally no background information. Perfect.

Even with that less information, my decision was made, I have to build/paint this engine!

The first step was to priming the U30C shell in gray to have the base for the former SBD paint schema. I was wondering that I have had a Family Lines decal set and don't have to order it? Ahhh, correct, some years ago, I build a SBD BQ23-7 locomotive. What an "ugly" engine, so ugly that I like it


After applying the decals, I faded the priming with Microlux Clear and a gray wash.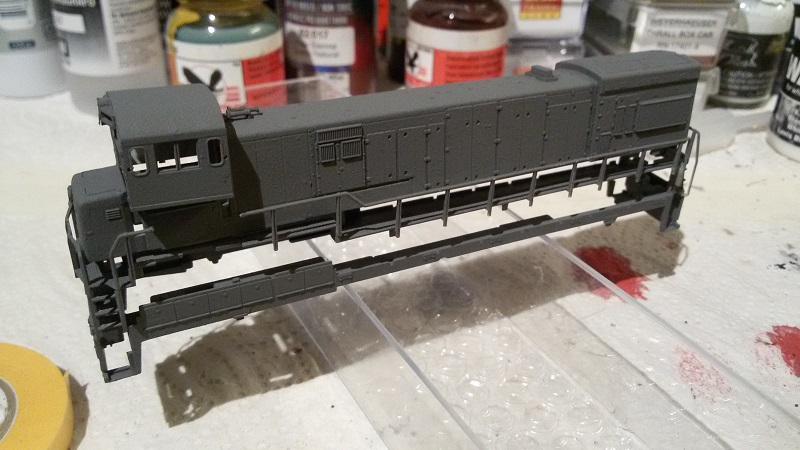 Now the first big patches rust and light gray were applied. Until now, I could work with the airbrush. Now I've to switch to a fine brush.




At this point, I realized, that there are 3 graffiti's on the shell. Unbelievable, but it was the first time I really get a closer look to the engine. Before I thought, that the "graffiti's" are only "rust" spots. I browsed through all my graffiti decals, but none of them look similar as the ones on the engine. Bummer! That means, I have to paint them


Three evenings, three hours at each evening, three self-painted graffiti's and seven different rust colors later, I have had my own version of SARX 7227.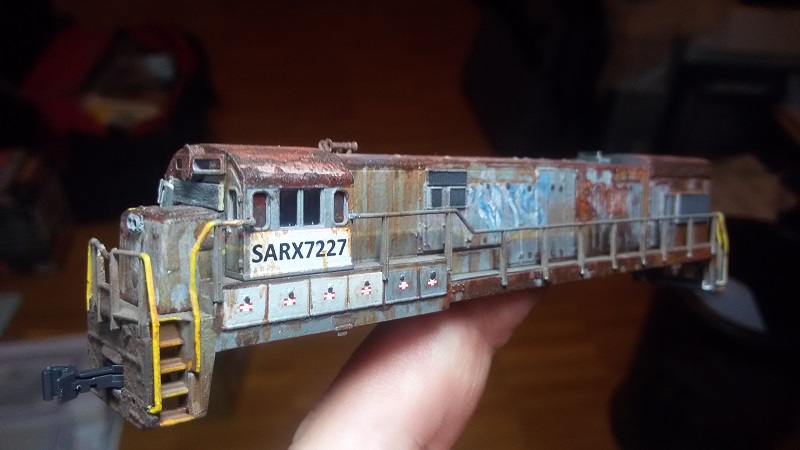 Here some pictures to compare the model with the prototype.




It was the most challenging paint job I've ever done until now. What was your most challenging paint job?
Have fun
Markus